Jack Manning Bancroft and Sir Richard Branson
It's been nine years in the making, and yesterday we opened the magic box...
W
e launched the Mentors 4 Life Program, marking AIME's first program open to business and individuals.
The program bottles the secret ingredients
from a mentoring program that has seen astounding results over the last nine years for Indigenous kids, and fuses these ingredients in a 12-month individual mentoring program that can be used by anyone in the world.
At the launch,
AIME CEO Jack Manning Bancroft
was joined by
Virgin Founder Sir Richard Branson
in a discussion of leadership, entrepreneurship and the power of mentoring to help overcome some of the challenges of our time.
"We're so excited to share the magic formula that we've applied so successfully over the last nine years working with Indigenous kids, so that more people around Australia and the world are able to unlock the limitless potential that lies within them," said Mr Manning Bancroft. "It's an honour to share a stage with Sir Richard Branson because I reckon in 20 years time people will be looking at AIME as one of the groundbreaking businesses of our time, as Virgin has been over the last 20 years." JMB
There are only 3,000 positions available for this world-first program
and all the funds raised will go back to help us get out there and work with more Indigenous kids across Australia, and to see them finish school at the same rate as every Australian child.
What better way to kick off The AIME Chronicle than with a blog from the man who inspires so many, especially the crew at AIME. Check out the kind words Branson had to say about AIME and the new Program...
The importance of mentoring
By Richard Branson - May 08, 2013
Whenever I am asked what is the missing link between a promising businessperson and a successful one, mentoring comes to mind. Giving people advice on how they can best achieve their goals is something that is often overlooked. Here in Adelaide today there has been a lot of focus upon mentoring, ranging from giving young pilots the skills to fly to sharing business tips with start-up video conferencing business
FaceMe
. Over breakfast I chatted with
Business Chicks
and in the evening shared business lessons at the
National Achievers Conference
. I also got some mentoring myself from Tour De France cycling pro Patrick Jonker on a beautiful cycle around the city.
It was also a real privilege to speak at a mentoring session with the Australian Indigenous Mentoring Experience (AIME). Their inspiring Founder Jack Manning Bancroft, a bundle of boundless energy and ideas, set up
AIME
when he was just 19 and they have now expanded across Australia, engaging over 2000 Indigenous high school students and 1000 university students.
Their new Mentors 4 Life program can be used by businesses and networks across the world, helping to ingrain the positive message of mentoring within companies globally. The spirit of mentoring should be embedded in all businesses and certainly is at Virgin. AIME reminds me a lot of the
Branson Centre of Entrepreneurship
with its messages of mentorship, leadership and entrepreneurship. It is an excellent example of using business as a force for good.
Mentoring was very important for me personally. For example, Sir Freddie Laker gave me invaluable advice and guidance as we set up
Virgin Atlantic
, while my mum has been a mentor throughout my life. Nowadays, I find mentors inside and outside of Virgin every day. If you ask any successful businessperson, they will always have had a great mentor at some point along the road. If you want success then it takes hard work, hard work and more hard work. But it also takes a little help along the way. If you are determined and enthusiastic then people will support you.
If you are looking to make your way in business, try to find a mentor. If you are in a position to share the skills you have learned, give something back by becoming a mentor yourself.

You can be
one of the first 3,000 people
to sign up to our world first program and unlock the limitless potential inside of you. Become an AIME friend and be a part of the coolest club in town!
http://www.aimementoring.com/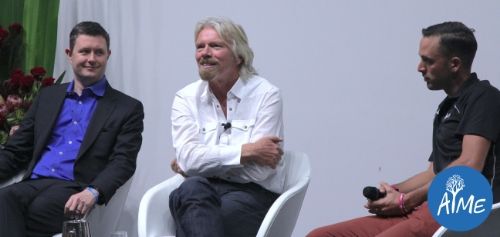 Question time with Prof David Lloyd, Sir Richard Branson and AIME CEO, Jack Manning Bancroft